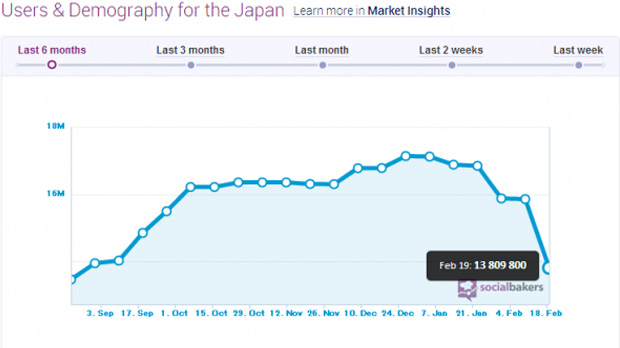 Facebook Flatlining in Japan
Facebook has flatlined at around 19 million active users per month in Japan.  20 million monthly active users is the level at which every social network seems to get stuck.  Asiajin.com suggests that there was a significant drop last week, some 13%, of active users.  The data is a little questionable, but undisputedly Line is the king in Japan and seems to be growing contender to the champion.
For years Japanese developers (as mentioned in another blogpost, Naver, the company behind Line, is actually Korean, but the developers behind Line are in Japan) have been insulating themselves and creating apps that only appealed to Japan.   It's great to see a group ditch the equivalent of cultural inside jokes and develop a real platform that's attractive to a global audience.
Watch out Facebook.
Take a look at how much Line pours into advertising:
---